Main content starts here, tab to start navigating
Theaster Gates Art Takeover
Theaster Gates is a world-renown artist and Chicago-based social innovator. His multidisciplinary work elevates craft, labor, Black histories and Black objects. He is a trained urban planner and ceramicist, and he often borrows from his training to inform both his studio and social practice.
Mr. Gates primarily creates work that focus on space theory and land development, sculpture and performance. He is also the founder and Executive Director of Rebuild Foundation, the platform for neighborhood transformation through arts and culture on the South Side. Rebuild Foundation is famously known for the Stony Island Arts Bank in the Greater Grand Crossing neighborhood, just steps away from Virtue.
Theaster and Chef Erick share a longstanding friendship and commitment to supporting and amplifying the work of Black artists working across the fields of the visual and culinary arts.
Black Image Corporation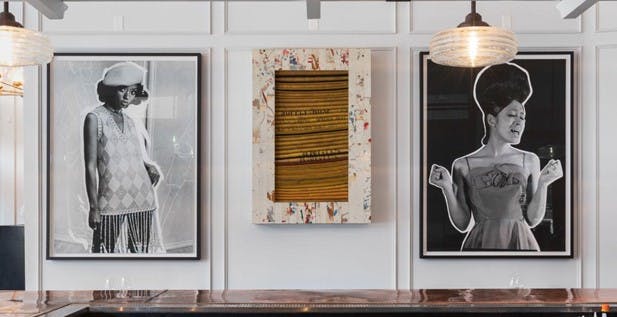 These works, which highlight the beauty and power of Black women, are a part of Theaster Gates' ongoing exploration and activation of the Johnson Publishing Company archives as well as the redeployment of the Black image in contemporary contexts.
Part of Gates' Black Image Corporation, these images, which graced the pages of the famous JET and EBONY Magazines and celebrated Black culture from heroes to everyday people, were shot by Isaac Sutton and Moneta Sleet Jr.
The project explores the legacy of Johnson Publishing Company archives, which feature more than 4 million images and have contributed to shape the aesthetic and cultural languages of the contemporary African American identity.
These images have been exhibited globally in participatory exhibitions at Fondazione Prada in Milan, Gropius Bau in Berlin and at Spelman College Museum of Fine Art in Atlanta.
Race Riot and Civil Tapestry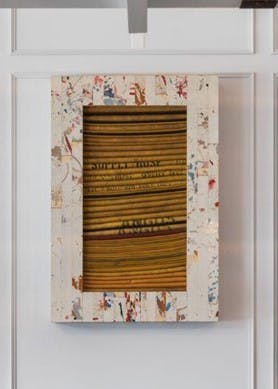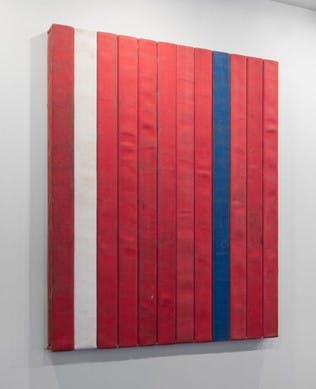 The Race Riot and Civil Tapestry works are poignant examples of Theaster Gates' practice of using found objects with historical or iconic significance to catalyze social engagement in the community.
The decommissioned fire hoses represent the use of water hoses against largely Black and Brown protestors fighting for desegregation at the height of the Civil Rights movement, alluding to the force that was used against peaceful protesters in Birmingham, Alabama in 1963.
Mountain Aura Work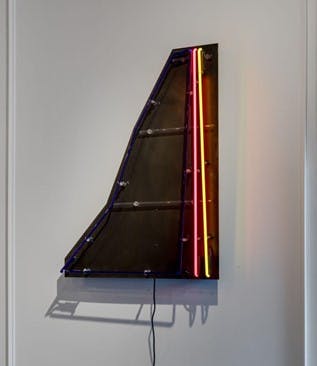 In a suite of neon works conceived by Gates, Gates repurposes W.E.B. DuBois' statistical data charts which he then used as compositional elements in the geometric abstractions he deployed through neon on aluminum panels.
This creative form of data visualization presents a new take on DuBois' sociological findings on land ownership and education in 20th century African American households.
This series of work calls upon the political vocabulary of DuBois' infographics, giving poetic form to the archival.
Tar Paintings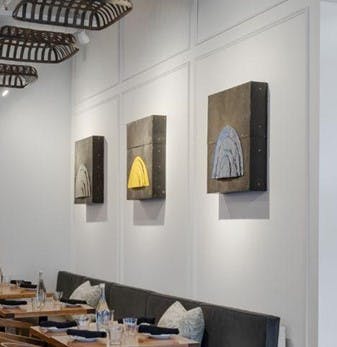 Gates' practice explores craft, labor economics and skill through his own family histories. His father, who was a roofer, inspires Gates' use of tar and learned roofing technique throughout much of his practice.
Gates began to formalize his knowledge of roofing techniques into a new territory of experimental painting, working with tar to make the invisible roof legible.
In a suite of paintings, Gates has crafted painted torch down into taut conjoined backdrops.
Gates has imbued abstract painting with unprecedented form and meaning in ruggedly elegant works that employ the signifying materials and skilled labor of roofing to invoke a meditation on urban spirit.
Ceramic Vessels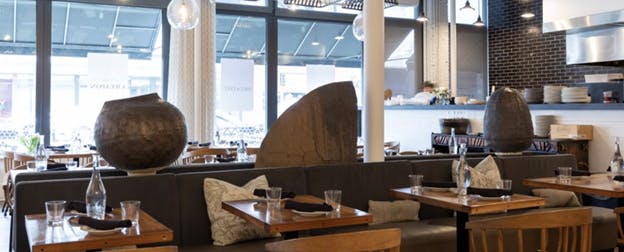 A trained potter, Theaster's meditations on the sacred, plastic form and the vessel through ceramics have occupied large swathes of his practice.
Through his work with ceramics, Theaster often explores craft histories from Japan, Korea and China and the vessel as a reliquary of shared histories.
He has also exhibited a number of tarred ceramics, combining his training in ceramics with his personal and family histories with roofing technique.
Theaster spent time in Tokoname, Japan early in his practice learning traditional Japanese pottery and craft histories.