Main content starts here, tab to start navigating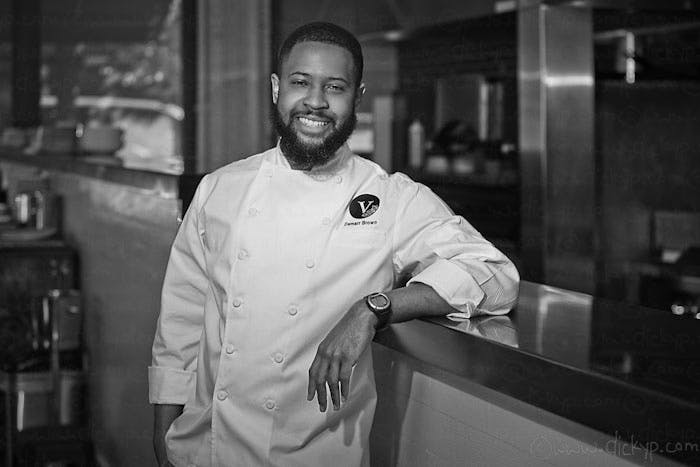 Damarr Brown
Chef de Cuisine
With the belief that "all cultures celebrate, grieve, and come together around a table," Chef de Cuisine Damarr Brown brings his culinary expertise from Roister and mk to Virtue Restaurant. Brown cooked under Chef and Owner Erick Williams at nationally acclaimed mk for seven years, building a strong reputation and relationship, citing Williams as his mentor.
As a proclaimed food and beverage enthusiast, Brown graduated from the Cooking and Hospitality Institute in Chicago. He grew up immersing himself in the cooking styles of Emeril Lagasse and Julia Child and often cooked with his mother who supported his skills by preparing meals together and buying him cookbooks.
Brown spent two years at Roister, the Alinea groups hearth focused concept. He further honed his craft as sous chef under the tutelage of Michelin starred Chef, Andrew Brochu. Chef Brown reunited with Chef Williams to open Virtue, with the mentality that food connects people from a variety of backgrounds. Brown believes Virtue is an important part of Chicago's dining scene, as it was founded to provide inclusivity, and a culture of equity. His culinary focus at Virtue draws from familiar flavors he grew up with, pairing them with his learnings and takeaways from past kitchens.
Damarr Brown supports the ideology of community, he enjoys dining at eateries near and abroad. Music history is a favorite pasttime, alongside his continual search for new or forgotten flavors and technique.