Main content starts here, tab to start navigating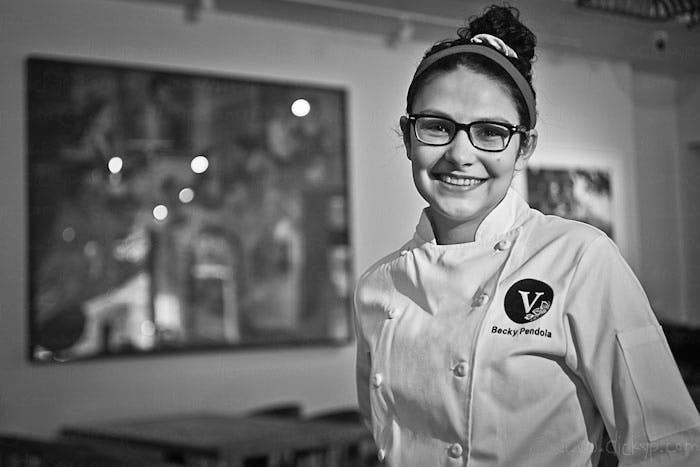 Becky Pendola
Pastry Chef
Pastry Chef Becky Pendola reunites with Chef Erick Williams, bringing a fanciful twist on traditional southern desserts. Her refined approach to time-honored technique and recipes is revealed in her sought after desserts. Previously the pastry sous chef at the renowned restaurants Sepia and Proxi in Chicago's West Loop, she grew under the tutelage of nationally celebrated Chef Andrew Zimmerman. Pendola launched her career as a young pastry assistant at mk the restaurant, under acclaimed Pastry Chef Lisa Bonjour.
Growing up, Pendola's love for cooking started at a very young age while baking with her mother. She was enamored by the process of creating food and the feeling of sharing it with others. Becky was excited by everything from a simple family recipe baked during the holidays to a boxed cake mix from the grocery store. She graduated at the head of her class from Kendall College in Chicago, all while working as a pastry intern to learn as much as she could about her craft.
Drawing inspiration from strong female chefs such as Lisa Bonjour, Joanne Chang, Stella Parks, and Genie Kwon, Pendola strives to wow patrons by keeping the flavors of classic desserts focused with unexpected presentations. She is especially passionate about the hospitality that the Virtue team provides and believes that guests should leave the restaurant feeling cared for and welcomed as if they were visiting a friend's house.
In her spare time, Pendola is an avid researcher of vintage recipes, and enjoys knitting while indulging in a glass of wine. Becky donates her time feeding the homeless community and working alongside Chef Williams to provide equitable space for the BIPOC community.